Cambridge Systematics (CS) announces two grant awardees for the Equity-In-Action Grant Program: The East Harlem Tutorial Program (EHTP) and Friends of the Underline. Through the grant program, both organizations will gain access to CS' proprietary location-based services (LBS) dataset, LOCUS, along with support from our experts on data collection, analysis and visualization; GIS analysis; grant writing; skill-building and more to help advance their equity goals.  
"LBS data can offer valuable insight to a variety of equity challenges in transportation —but these tools are often inaccessible to nonprofit and community-based organizations who stand to benefit most," says Anurag Komanduri, Principal, Cambridge Systematics. "We are excited to expand the accessibility of these powerful data tools to organizations like The East Harlem Tutorial Program and Friends of the Underline who share our deep commitment to equity."
About the awardees, their work and how the organizations will use the data through this grant to advance their goals
East Harlem is a vibrant community experiencing extreme educational inequities resulting from systemic oppression and historical marginalization, affecting college completion and unemployment rates.
---
EHTP is a multi-site after-school program for public school students and a network of public charter schools focused on significantly increasing the college graduation rate in East Harlem through building academic skills, strength of character, and emotional well-being.
---
The Project
EHTP's "15-minute communities" project aims to understand access from EHTP school locations to a wide range of socio-economic, public health, social well-being opportunities and other essential destinations, including...
Healthcare facilities,

Education/vocational training centers,

Healthy food options,

Parks and recreational spaces,

Cultural facilities,

Job centers,

Social welfare facilities and

Public transit. 
How CS will support this project
To help EHTP staff and partners gain a better understanding of the data and processes used by government agencies to drive policy changes, CS will provide...
Technical oversight and assistance,

Skill-building and

Grant writing support services.
---
Before the construction of The Underline Park began in 2018, Miami-Dade County owned 120 acres of underutilized land below the Miami Metrorail guideway. Friends of The Underline is committed to transforming the underutilized land below Miami's Metrorail into a community space and multimodal urban trail improving connectivity between surrounding neighborhoods.
---
The Underline is a planned 10-mile urban trail, linear neighborhood park and public art destination that will span from the Miami River, north of Brickell Metrorail station, to Dadeland South.
The Underline project will feature dedicated bike and pedestrian paths, amenities, art, programming, lighting, native vegetation as well as safety features and improvements at road crossings.
---
The Underline will be built in three phases. The first phase, Brickell Backyard from the Miami River to Coral Way, opened February 2021.
The Project
With the recent opening of Phase 1 of The Underline Park, Friends of The Underline seeks to understand visitation patterns and identify trends and key insights that can be used to further their work and help demonstrate the impact of The Underline.   
How CS will support this project
To show how valuable the park and green space are to the community, CS will provide services to help...
Measure interest in The Underline Park with LOCUS data,

Define communities-of-concern using Census data and

Analyze visitation statistics.
---
CS thanks all the candidates who submitted applications during this grant period and congratulates the Equity-in-Action grant recipients! We look forward to working with these two organizations that share our unwavering commitment to advancing equity.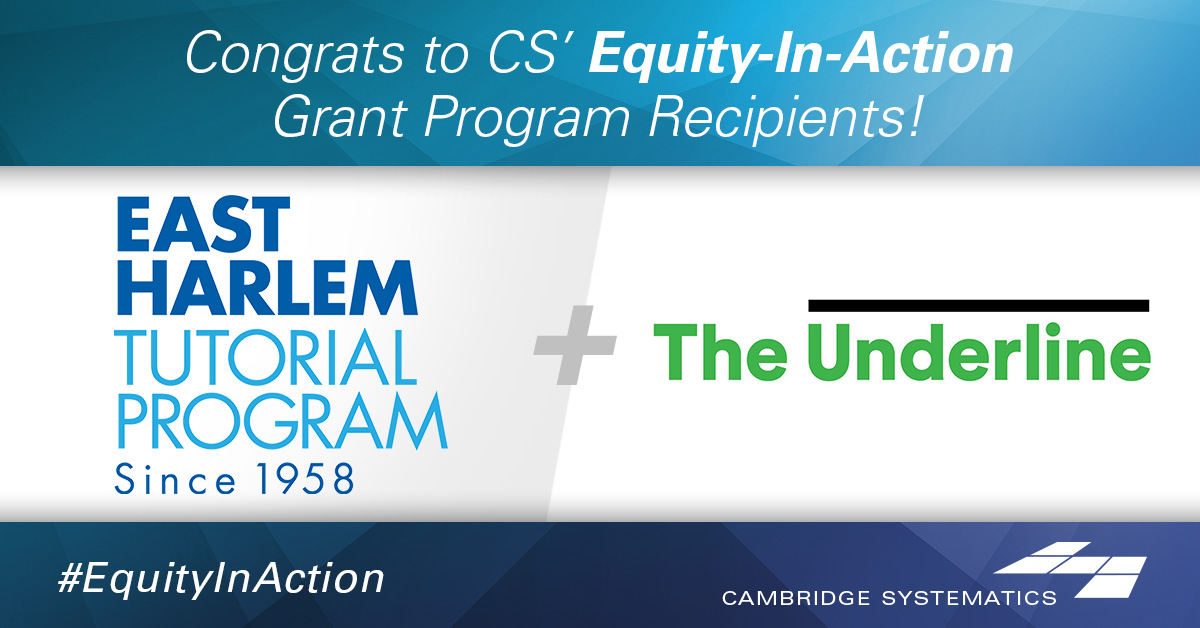 About CS' Equity-In-Action Grant Program
CS launched the Equity-In-Action grant program in 2021 to help select nonprofit and grassroots community-based organizations advance their equity goals by providing access to our proprietary data and to our experts. The program will support a range of equity projects, from studying how disadvantaged communities move and access critical resources, to equitable recovery from COVID-19, research that addresses inequities in the transportation system and strengthening other equity-focused grant applications.
About Cambridge Systematics
Cambridge Systematics, Inc. specializes in transportation and is dedicated to ensuring that transportation investments deliver the best possible results and a more equitable future. By providing innovative solutions in planning, modeling, operations and software applications, we help our clients make decisions to meet future transportation needs while enhancing the performance of existing infrastructure. We foster strong relationships with our clients and share with them a commitment to improving transportation for future generations.
Questions about the Equity-In-Action Grant Program? Connect with us.