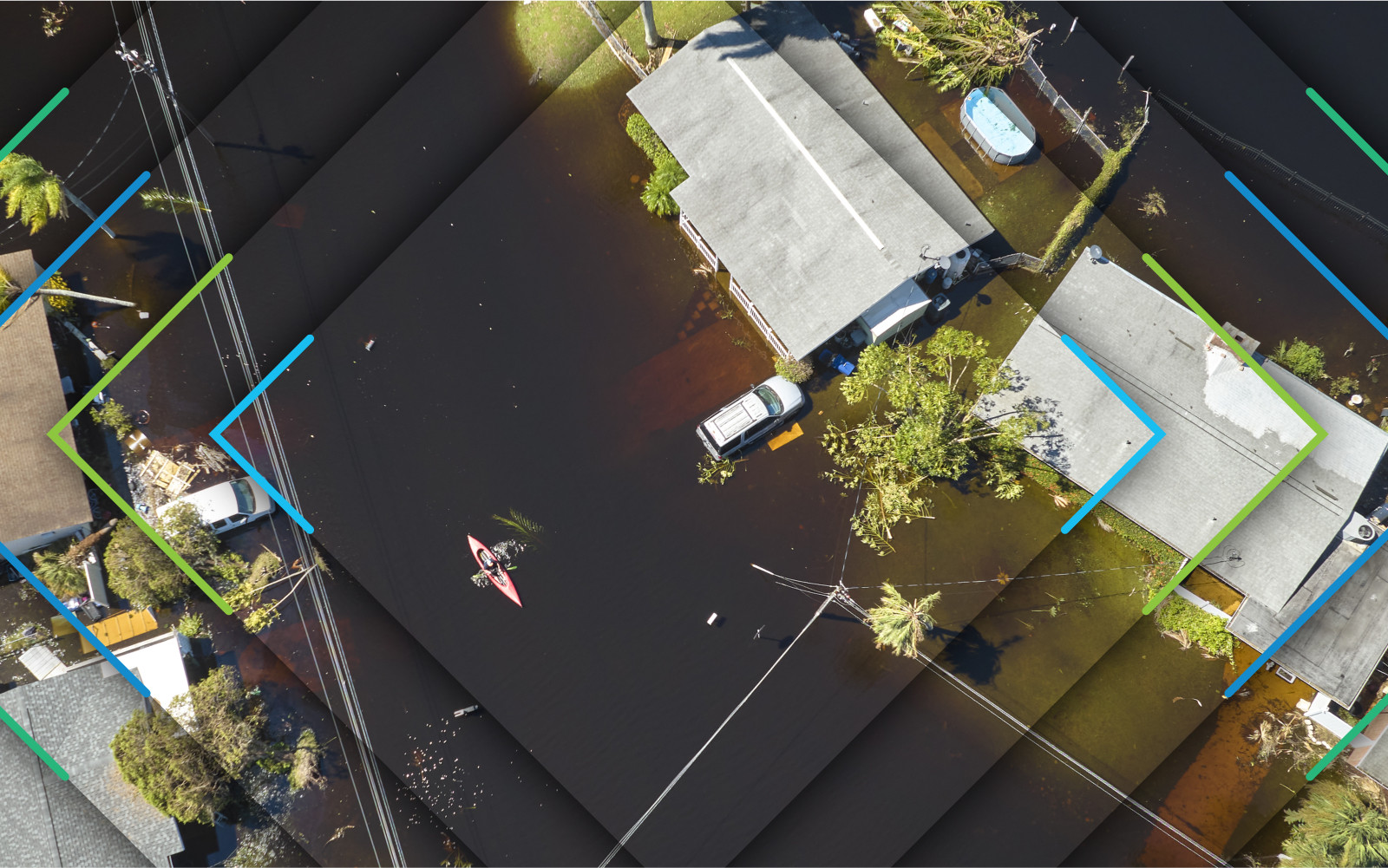 Then + Now is a blog series on the evolution of the transportation planning practice. This series sprung out of our 50th anniversary theme "Honoring the past > Shaping the future." Last year, we looked back on our rich history of innovation, and now, we'll dive into specific areas of transportation to tell the story of how it has changed over the years. In each installment of the series, our experts cover a specific topic – such as resilience, modeling, or transit network planning – recounting the work that propelled it forward and sharing key considerations as we plan for the future.  
Resilience  
With each passing year, we hear more superlatives used to describe the scale of climate-related disasters: largest, biggest, costliest – the list goes on. These ever-growing disasters cause disruptions across the United States' complex network of intermodal highway, public transit, rail, marine, and aviation systems. In September, Hurricane Ian, named the 15th billion-dollar disaster this year, disabled two major bridges, left thousands stranded in airports, and destroyed countless homes and businesses in southeast Florida. These disruptions are costly and impede our ability to work, go to school, enjoy leisure time, maintain our homes, and stay in touch with friends and family. Resilience is more important now than ever. 
But what is resilience? 
Simply put, resilience is the ability to prepare for, withstand, and recover quickly from disruptions, adapting to changing conditions while avoiding or minimizing the impacts of hazards and stressors.  
---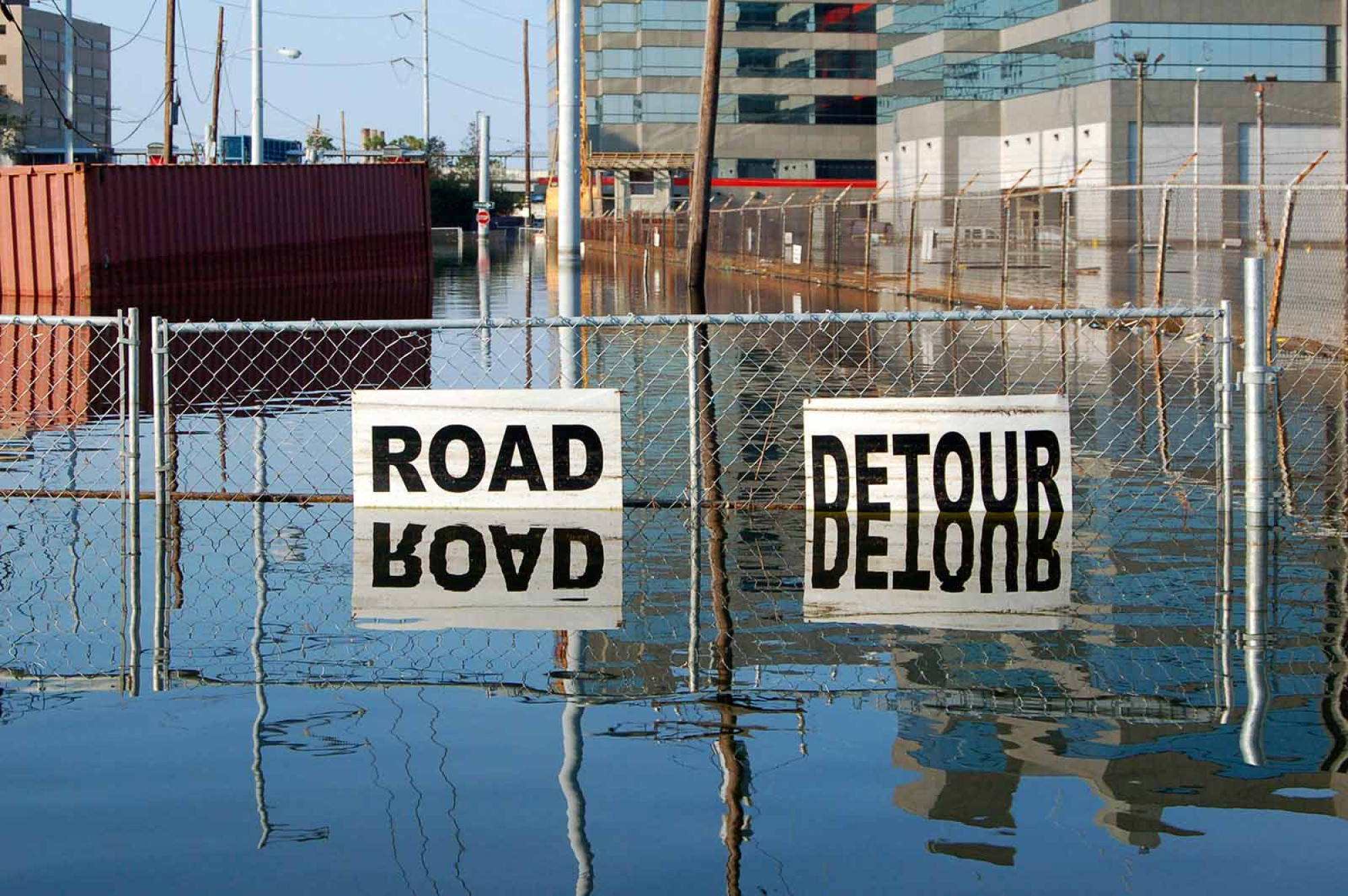 Resilience Then: 2008-2019  
Disruptions and natural disasters are inevitable, but in recent decades, we've learned to better prepare for them by bolstering transportation infrastructure and focusing on community resilience. Our team at Cambridge Systematics (CS) has been at the forefront in this arena, working in partnership with Federal, state and local agencies across the country. 
The government's response to Hurricane Katrina, the costliest hurricane on record, drew harsh criticism from the public, as it became apparent that authorities were unprepared. The enormous scale of destruction from the storm heightened our collective awareness of the need for proactive emergency management and environmental policies. Public agencies across the U.S. mobilized to better prepare for disasters and develop tactics to enhance community resilience in their wake. 
In 2008, the U.S. Climate Change Science Program published Phase 1 of the ground-breaking Gulf Coast Study: one of the first pilot studies examining the impacts of climate change on transportation infrastructure at a regional scale. We supported this study in conducting what we now call a vulnerability analysis – investigating risks and impacts on coastal ports, road, air, rail, and public transit systems in the central Gulf Coast, with a study area stretching from the Houston/Galveston, Texas area to Mobile, Alabama. The study assessed likely changes in temperature and precipitation patterns, sea levels, and severity and frequency of tropical storms.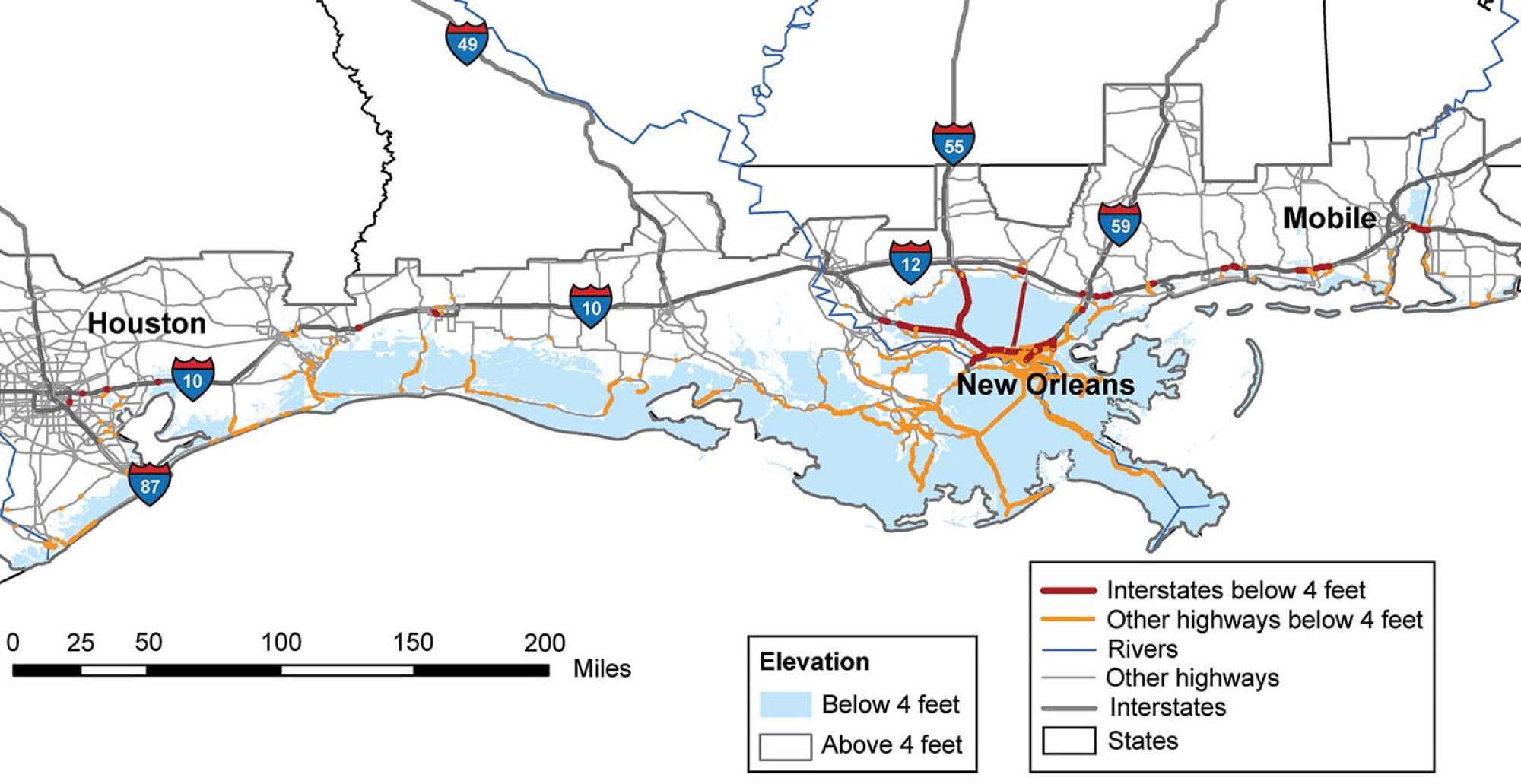 After Hurricane Sandy in 2012, we collaborated with the Federal Highway Administration (FHWA) to conduct a study that assessed the impacts of the storm on the transportation assets within the greater NY-NJ-CT metropolitan region. The study examined the vulnerability of those assets to the impacts of extreme weather events and possible future effects of climate change. The study also identified adaptation strategies for increasing the resilience of transportation systems in the region. It was among the first studies to go beyond planning to incorporate engineering assessments, which informed multimodal transportation vulnerability and risk assessments. The final report, Post Hurricane Sandy Transportation Resilience Study in NY, NJ, and CT, was published in October 2017. 
---
Resilience Now  
There's real momentum for resilience in the transportation space in recent years, as it has become a crucial lens through which we make transportation decisions. In 2019, for example, we partnered with Hillsborough TPO (in collaboration with the Pinellas and Pasco MPOs, Tampa Bay Regional Planning Council, and the Florida Department of Transportation District 7) on an FHWA Resilience and Durability to Extreme Weather grant to integrate resilience into each Metropolitan Planning Organization's (MPO) 2045 Long Range Transportation Plans (LRTP).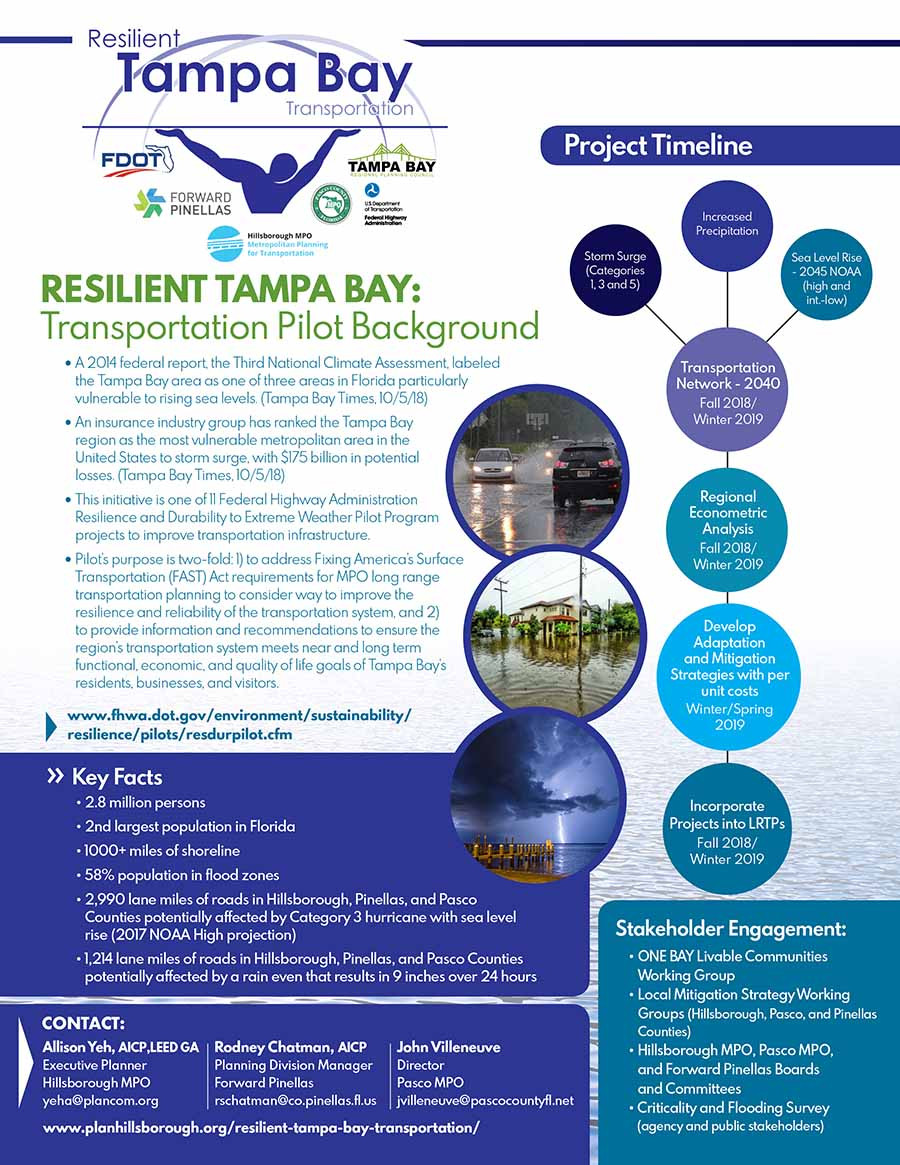 As resilience practices mature, we're also working with clients to incorporate risk-based approaches into their programs. This includes an analysis of the exposure to a hazard, the likelihood of occurrence, and potential consequences. Monetizing risk helps us evaluate solutions using a common outcome – quantifying in addition to qualifying the benefits of resilience strategies. The Infrastructure Investment and Jobs Act (IIJA) (also known as the Bipartisan Infrastructure Law, or BIL) specifically called out risk-based asset management strategies as part of the Resilience Improvement Plan in the PROTECT program. We have prepared several of these assessments for our clients, including for Georgia DOT's LRTP, and we're working now with several others as they create their Resilience Improvement and freight plans. 
Additionally, we've been developing frameworks that prioritize a key component of resilience: criticality. Criticality encompasses asset management and involves identifying infrastructure that is important for mobility and accessibility, considering all resources needed for a community to bounce back after a disaster. We're excited to help more agencies develop and implement criticality frameworks and risk-based asset management strategies because we recognize their increasing importance as we experience worsening effects of climate change. 
---
Resilience in the Future 
As extreme weather and natural disasters become more commonplace, it will be increasingly important to: 
Consider people first: Criticality frameworks should help not only prioritize assets, but also factor in a "people and community" element to the assessment. 
Communicate effectively: Resilience initiatives often face political, societal, and internal communication barriers that can be addressed through an integrated and strategic communications plan. At CS, we're excited about the future of this type of work. 

Measure outcomes: We often hear the phrase "you are what you measure." So, quantifying the benefits of resilience improvements is an important step! We just started leading an NCHRP research project on metrics and outcomes, demonstrating the effectiveness of resilience planning as well as implementation, operational, and maintenance activities. This research is planned to continue through 2024.  

Customize solutions: We recognize that each client we partner with has their own needs and a specific approach to resilience. Each faces a unique set of hazards and stressors and requires consideration from an emergency, project development, or asset management perspective. With that in mind, we help our clients create customized solutions for tackling resilience projects and programs in a way that matches their goals and timelines. 
We're here to help create more resilient transportation systems supporting our communities, economies, and the environment.  Let's talk about how!
If you're just starting out, we can help you leapfrog the learning curve. We'll work with you to develop a risk-based assessment that incorporates identification of hazards, stressors and community impacts or consequences. We can also help develop prioritization criteria or investment plans, including assistance with grant applications for numerous federal and state opportunities (such as PROTECT funding).  
If you already have resilience projects or programs in place, we can help you take it to the next level to inform efficient and effective decisions. We can better integrate resilience actions into business practices and decision-making, incorporate Justice 40 initiatives into project identification and selection processes and address your infrastructure lifecycle needs with robust asset management solutions.