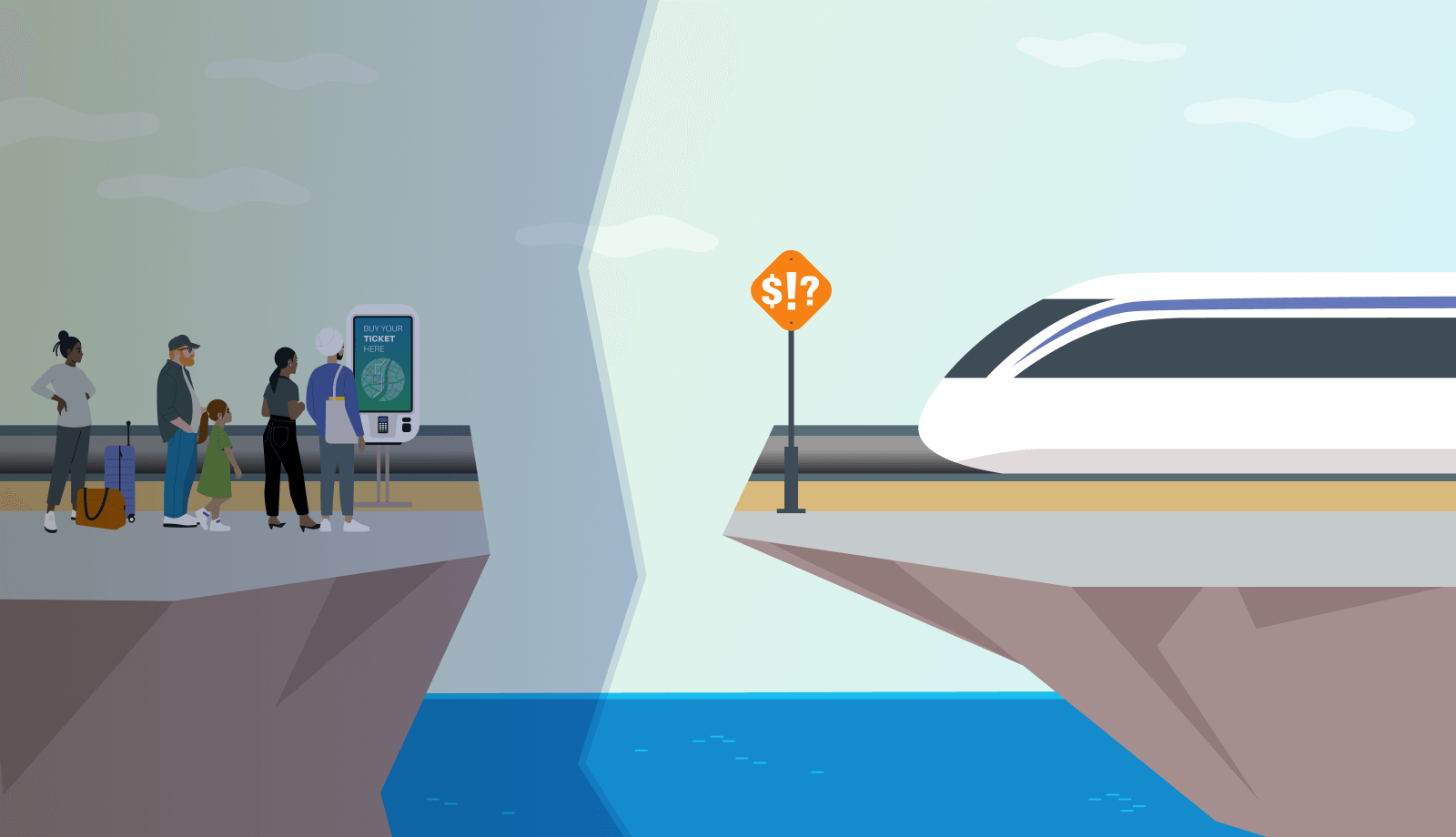 With a potential disaster coming for transit agencies, how can you future-proof your agency's transit operations? 
Transit agencies across the country are facing a looming crisis that's expected to start in 2025 or 2026, often referred to as the Transit Fiscal Cliff. The convergence of three primary factors is causing this: ridership levels are too slowly crawling back to pre-COVID levels, continued cost escalation, and federal COVID-era operating funding relief running out. The consequences of this Fiscal Cliff – especially for agencies that have been historically dependent on farebox recovery – could trigger a death spiral of service cuts and ridership drops that agencies might not be able to recover from. 




How bad is the Fiscal Cliff? It varies by agency, but some well-publicized figures from the nation's largest transit agencies paint a dire picture. Projected annual deficits range from nearly $1 billion for NJTRANSIT, over $700 million for both the Chicago and Washington, DC regions, $400 million for the MBTA, and in the $200-$400 million range for agencies including BART and SEPTA. 
Additional federal relief on the operating side appears unlikely, so transit agencies need to look to local and state sources to fill the gap and avert the Fiscal Cliff. There are three primary steps that each agency should take to navigate the funding cliff and future-proof their transit operations: 
Understand the size of the problem. 

Evaluate funding options. 

Engage and convince stakeholders. 
First, agencies must know what the size of the problem is. The magnitude of the Fiscal Cliff depends on a lot of factors, including specifics of labor contracts, ridership recovery trajectories, growth of existing funding sources, changes in costs of materials, and service changes. The first step in revealing the size of the problem should be revenue forecasting: how much do you expect current funding sources to grow in the future? This should be paired with a needs assessment. Large agencies often spend a lot of effort on capital needs assessments – but the operating side should also be considered through evaluating current service, identifying needs for service expansion, and forecasting growth in costs. Cost modeling can be a valuable tool in understanding the drivers of increasing costs, how the cost structure varies between service types, and which areas require more attention. 
Once you know the size of the problem, you can begin to work towards fixing it. Unfortunately, it doesn't look like the federal government is likely to solve the operating-funding crisis, so agencies should look for state and local solutions. Every agency is different, so every solution will need to look different, too. Agencies should be creative and open-minded in identifying alternatives, pragmatic about what options can realistically be implemented, and mindful of matching the magnitude of the solution to the size of the problem. Once you've identified a set of possible funding options, you should consider a variety of factors to help settle on what funding source(s) to pursue through revenue source evaluation. At a minimum, this should include criteria such as: 
Revenue Yield: How much funding would this source bring in? 

Viability: What legal or political hurdles would we need to overcome to implement the source? 

Equitable Outcomes: To what degree does the burden of the funding source fall on low-income or historically disadvantaged populations? 
Stability: Is the source subject to uncertain fluctuations that can make it difficult to rely on? 

Ease of Administration: Is there already a mechanism in place to collect this revenue or will new systems, technologies, and structures need to be created first? 

Nexus with Transit: To what degree does this source strengthen incentives to use public transit? 

Timing: How soon can this funding be collected? 
Revenue Source Evaluation​ in Action
Additional criteria might be important to your local context or situation, but once you use this framework to find the right source(s) to pursue, it's time to make the pitch.  
To make new funding a reality, engagement with stakeholders will be critical. Identifying the right ones to engage is important, but you'll likely need to consider state legislators, local governments, rider groups, the business community, transit advocacy groups, and the general public. You will need a clear message on why new funding is needed, what the funding source is, and what steps are needed for implementation. Using storytelling techniques – helping stakeholders see themselves in the larger narrative of the crisis and making both the needs and the solutions personal – can be powerful as you share about proposed solutions. Your message should also include data – quantifying how much the community would be affected. This can include economic impact assessments to describe the value of transit, along with information on congestion, health, safety, and quality-of-life impacts.  
Does your agency need a guide to help navigate your Fiscal Cliff? Here's how to get in touch:
Connect with us at the Mpact Transit + Community Conference
Navigating Transit's Fiscal Cliff